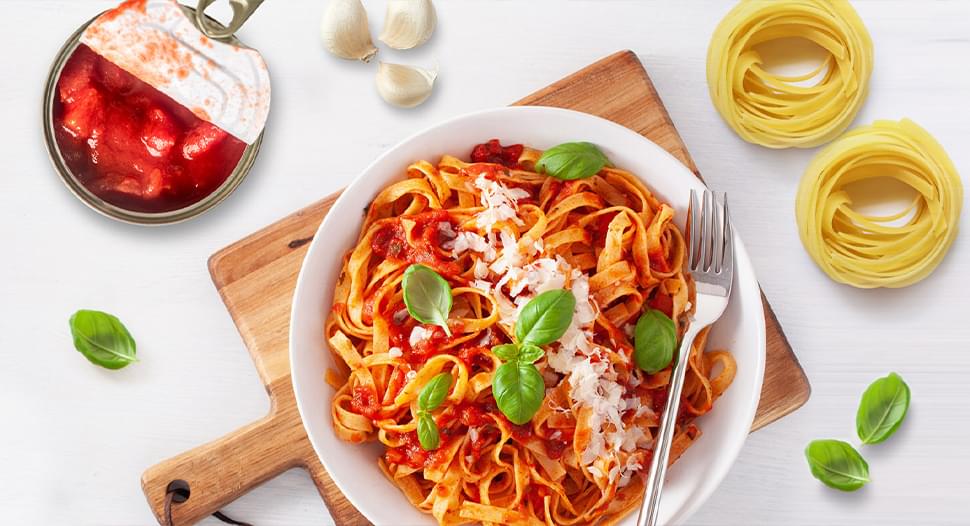 One-Pan Pasta with Canned Tomatoes
Ingredients
| | |
| --- | --- |
| fettuccine | 200 g |
| chopped tomatoes | 1 can |
| small onion, thinly sliced | 1 |
| basil | 2 sprigs |
| extra-virgin olive oil | 1 tbsp |
| coarse salt | |
| freshly ground black pepper | |
| water, plus more if needed to thin sauce | 1 1⁄2 cups |
| dry red wine, to taste or thin sauce (optional) | |
| freshly grated Parmesan cheese, for serving | |
How to cook
Step 1
Lay pasta flat with the canned tomatoes, onion, garlic, red pepper flakes, basil, oil, salt and pepper in a large pan.
Step 2
Bring to a boil over high heat.
Step 3
Stir and turn the pasta frequently with tongs or a fork until pasta is al dente (about 9 minutes).
Step 4
If the sauce thickens too much or starts to stick to the pan, add more water or red wine as needed to thin the sauce and prevent burning.
Step 5
Season with salt and pepper to taste before garnishing with basil and Parmesan cheese.
Step 6
Divide among 2 bowls, or serve straight from the pan.
Note:
Keep an eye on all the ingredients in the pan to make sure it doesn't burn and add more liquid if necessary. If you've got more time, sauté the onions and garlic in olive oil first for a richer flavour!